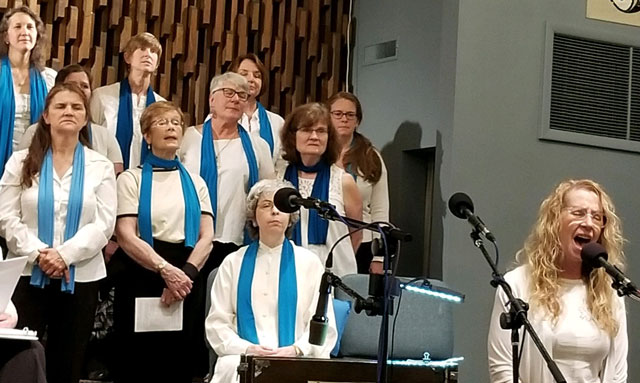 Sing with the Portland Peace Choir
What does it take to join? Your joy to rehearse every week. Your excitement to perform 3-4 times a year in churches, nursing homes, festivals, farmers markets. We invite you to serve on one of our committees ~ performance, music, operations, library, membership, social, or finance. $30 per month for each month of the choir year (nine months, Labor Day until Memorial Day, at least 30 rehearsals) or $270 at the beginning of the Fall Season.  Scholarships available. There are no auditions necessary to join the Peace Choir. We would love for you to join us!
When and where?  Wednesday evenings from 7-9 pm (doors open at 6:30 pm)
Waverly United Church of Christ 
3300 SE Woodward St.
Portland, OR 97202
Join us at any time. You will be given a book of songs as well as access to our online "Green Room" with mp3 audio tracks to every song with an mp3 for soprano, alto, tenor and bass parts.
Visitors are Welcome:  Visitors are welcome to attend one complimentary rehearsal before joining.