Portland Peace Choir is a no-audition community choir located in Portland, OR.
The Portland Peace Choir has no religious or political affiliations.
Please browse through our website and check us out! Come to a rehearsal or a free concert.  Sing with us!
Singing in a Peace Choir is about much more than making music. It's a radical act of optimism and knowing that what we do makes a difference. It builds community. We who sing in the Portland Peace Choir believe in what we are singing. We see our music as a path to creating more peace, not only in our own lives, but for our families, our neighbors, our communities and the world.
We sing to lessen our own isolation. We sing to feel connection, to belong and to feel joy. We sing to learn new languages, to honor sacred traditions, to heal our wounds. We sing to promote peace.
Choir Practice:  Wednesday evenings from 7-9 pm (doors open at 6:30 pm)
Rehearsal Venue:
Waverly United Church of Christ
3300 SE Woodward St.
Portland, OR 97202
Waverly United Church of Christ enthusiastically supports our mission.  However, Portland Peace Choir is not affiliated with Waverly or any other religious or political organization.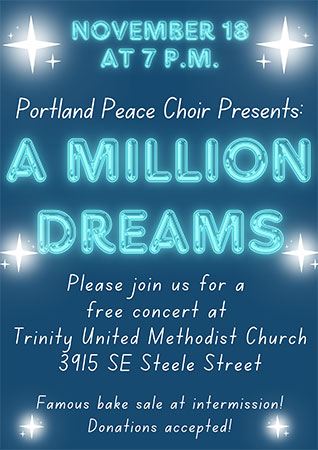 "Singing in a choir is like singing a rainbow of notes in harmony."
"Singing in a choir is cheaper than therapy, healthier than drinking, and more fun than working out!"
"Sing, then. Sing, indeed, with shoulders back, and head up so that song might go to the roof and beyond to the sky."