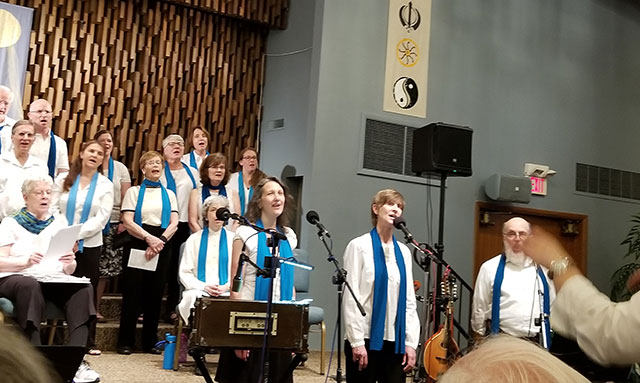 Our Mission Statement
The Portland Peace Choir strives to exemplify the principles of peace,  equality,  justice,  stewardship of the Earth,  unity and cooperation.  We sing music from diverse cultures and traditions to inspire peace in ourselves,  our families,  our communities,  and the world.  The Portland Peace Choir welcomes all voices
Our Director, Ruth Reding Hoffart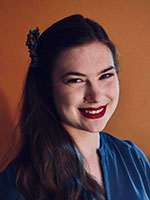 Ruth Reding Hoffart has been involved in music, especially classical music, since she was very young. As a toddler, she would ask her family to play "beautiful music" when she wanted to listen to classical music. After taking piano lessons for several years, Ruth began taking voice lessons at age 12. It was love at first note!
Ruth has a Bachelors of Music in Vocal Performance from Illinois Wesleyan University where she performed in multiple choirs and operas. Some of her previous roles include the Ugly Step-Sister in "The True Story of Cinderella" by Warren Martin, the Page in Gian-Carlo Menotti's "Amahl and the Night Visitors," Prince Charming in Jules Massenet's "Cendrillon," and Despina in "Cosí fan tutte" by Wolfgang Amadeus Mozart. Ruth also had the wonderful opportunity to go to South Africa with the IWU Collegiate Choir when they were invited to perform at a festival in Stellenbosch, SA.
As a director, Ruth has lead a number of ensembles. She started conducting in high school as a TA for the freshman choirs, then went on to direct the Wesleyan Consort (the early music ensemble at IWU) and a number of other student groups.
Ruth is so very pleased and honored to be a part of the Portland Peace Choir. She believes that music can be a force for good in the world, and believes that PPC is a wonderful place to demonstrate just that.
Our Accompanist, Naomi Keiko Andress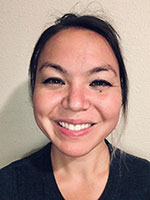 Naomi "Keiko" (pronounced "Cake-oh"—and yes, that's the real-life name of the killer whale from Free Willy) Andress has been playing piano all her life since she began plonking the keys on her parents' old upright as a toddler. She is classically trained and has a decade's worth of combined experience as a choir accompanist and church pianist. For the past four years she has had the privilege of accompanying the Cherry Park United Methodist Church Choir under the direction of Jesse Cromer and looking forward to working with him in the Portland Peace Choir as well! In addition to playing for the Cherry Park choir and the PPC, Keiko also plays keyboards in a couple bands with her friends in indie-pop-rock projects the Great State and Tiny Little Empire. Keiko is also a Lewis & Clark Law School grad aspiring to eventually practice immigration law. She is very excited and grateful for the opportunity to play piano for the PPC as it seeks to promote peace through music!
The Portland Peace Choir is fortunate and very pleased to have Jesse as our Music Director and Keiko as our Piano Accompanist.