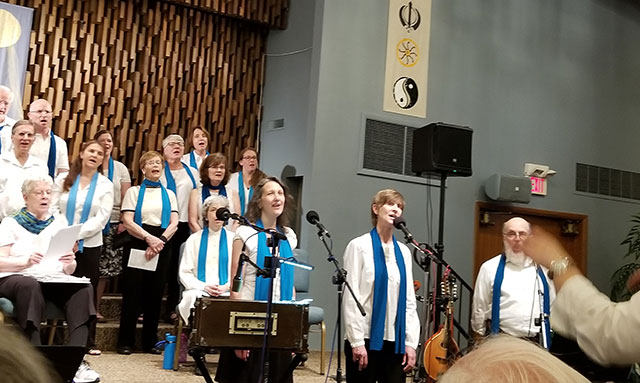 Our Mission Statement
The Portland Peace Choir strives to exemplify the principles of peace,  equality,  justice,  stewardship of the Earth,  unity and cooperation.  We sing music from diverse cultures and traditions to inspire peace in ourselves,  our families,  our communities,  and the world.  The Portland Peace Choir welcomes all voices.
Our Music Director, Jesse Cromer
Jesse Cromer returned home to Oregon nearly six years ago after living in New York City for nine years. He grew up in Stayton, Oregon. Leaving the Northwest to pursue music, Jesse graduated from the Manhattan School of Music with a bachelors degree in vocal performance in 2009, and has been an active performer, conductor, and teacher ever since.
In high school, he had a sizable piano studio in Stayton and cut his teeth on choral music by singing with groups such as the Festival Chorale, under the direction of Solveig Holmquist, and the Willamette Master Chorus with Paul Klemme. All four summers in high school, Jesse sang under Anton Armstrong and Helmuth Rilling at the Oregon Bach Festival Youth Choral Academy.
While at the Manhattan School of Music, he was the assistant director of the small women's chorus for his last two years, under Robert Isaacs. As a performer, Jesse sang with the illustrious MSM Opera Studio, performing and covering several roles on the main stage for three years. The summer after junior year, he toured Germany with the Festival Ensemble Stuttgart, conducted by Helmuth Rilling.
After college Jesse continued to teach, but largely focused on performing. He taught voice and piano lessons, with a studio of 5-10, mostly friends and referrals. His current voice studio in SW Portland has 25 singers. He is a Top Pro on Thumbtack, and has over 50 five-star reviews. Recently, Jesse has expanded his studio, adding eight coaches teaching his unique vocal technique around the Portland area. The new studio is called All Access Studios. They're currently building the website, and training new coaches in Salem and Seattle, and everywhere in between.
Jesse has performed numerous recitals for Silverton United Methodist Church, Rockwood, and Cherry Park United Methodist Churches, most recently Die Winterreise by Schubert, and Dichterliebe by Schumann. He has also done lots of solo concert work, and has sung with many Salem / Portland choral groups. While in New York, he was in two Off-Broadway shows, performed title opera roles with companies such as New York Lyric Opera, Underworld Productions, and many more. Throughout college and after, he sang with some of the finest choirs in NYC, including Saint Patrick's Cathedral, The Church of the Holy Family, and with the Salvatones, to name a few. Immediately before leaving New York, Jesse toured the east coast with famous hip-hop super-group, Deltron 3030, culminating in an appearance on the Letterman Show. The last two years, Jesse has been involved in filming multiple Netflix movies and television shows, including a singing role in the most recent season of Documentary Now! on IFC (Which can now be viewed on Netflix –Season 3 Episode 3). He is also active in local professional theatre.
Jesse is thrilled beyond measure to be PPC's new director. He sincerely values the mission, accessibility for all, and all of the people he has met thus far.
Our Accompanist, Amy Vanacore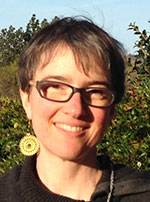 Amy Vanacore has more than 15 years of experience as a professional pianist and piano instructor. She holds a B.A. from Brown University, where she studied music theory, percussion, and psychology. Fluent in Spanish and English, she is passionate about cross-cultural learning, community, and social justice. She has accompanied hundreds of singers and instrumentalists in a variety of genres, including classical, musical theater, folk, jazz, and rock, and is excited to be performing with Nicaraguan singer-songwriter Clara Grun this summer in Managua, Nicaragua. Amy enjoys working collaboratively with choirs and is thrilled about accompanying the Portland Peace Choir!
The Portland Peace Choir is fortunate and very pleased to have Kristin Gordon George as our Music Director and Amy as our Piano Accompanist.