Our Mission Statement
The Portland Peace Choir strives to exemplify the principles of peace,  equality,  justice,  stewardship of the Earth,  unity and cooperation.  We sing music from diverse cultures and traditions to inspire peace in ourselves,  our families,  our communities,  and the world.  The Portland Peace Choir welcomes all voices.
Our Music Director, Kristin Gordon George
Earning a degree in vocal performance composition from Gonzaga University, Kristin Gordon George has gone on to serve as Music Director of the Metropolitan Community Church of Portland, Niwot United Methodist Church and currently as artistic and executive director of Resonate Choral Arts, a women's choir in Portland. George also independently teaches voice, piano, and ukulele, with a mission to uncover ease in breathing, singing, and instrumental performance.
Read interview with Kristin in Peacemeal 9-17
Our Accompanist, Amy Vanacore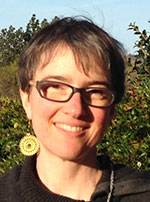 Amy Vanacore has more than 15 years of experience as a professional pianist and piano instructor. She holds a B.A. from Brown University, where she studied music theory, percussion, and psychology. Fluent in Spanish and English, she is passionate about cross-cultural learning, community, and social justice. She has accompanied hundreds of singers and instrumentalists in a variety of genres, including classical, musical theater, folk, jazz, and rock, and is excited to be performing with Nicaraguan singer-songwriter Clara Grun this summer in Managua, Nicaragua. Amy enjoys working collaboratively with choirs and is thrilled about accompanying the Portland Peace Choir!
The Portland Peace Choir is fortunate and very pleased to have Kristin Gordon George as our Music Director and Amy as our Piano Accompanist.