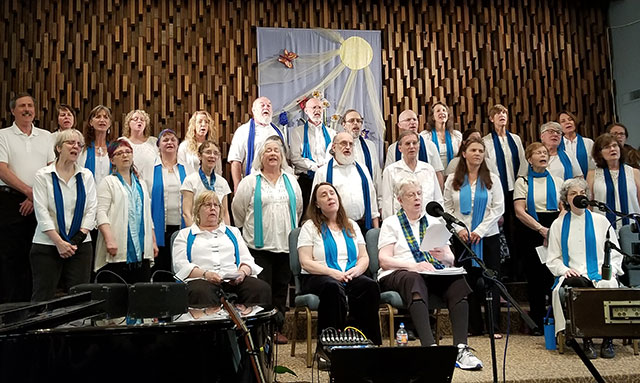 The Portland Peace Choir is a Community Choir in Portland, OR.

WELCOME ~ In 2009 some singers who were interested in promoting peace through music decided to form a choir with a mission to share their light by singing songs of peace. These songs would bond both the choir and those that heard them in the spirit of peace.
The choir would be open to everyone, only a commitment to sing and memorize new songs. Sheet music would be provided along with an online "green room" for listening and downloading songs in each of the four part harmonies.
We have now enjoyed nearly ten years of singing together and open our hearts to you to join us. Browse through our website and please do come to a concert or a rehearsal.
Music and peace are such a special part of our lives that we need to honor them. This is your chance. Please take it.
. . . . . . . . . . . . . . . . . . . . . 
*** Please note, we NOW HAVE 501(c)3 STATUS, so your contributions will be tax deductible.
Tax ID # 45-2919479
We do greatly appreciate your generosity and are grateful for each and every donation, no matter the size.

You may donate online via Pay Pal which accepts all major credit cards.