J'Nai Bridges – Wednesday, November 4th at 7:00pm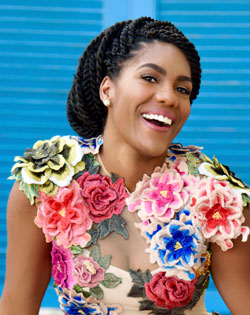 J'Nai Bridges, known for her "plush-voiced mezzo-soprano" (The New York Times), has been heralded as "a rising star" (Los Angeles Times), gracing the world's top stages. Her 2019-2020 operatic engagements in the U.S. this season include her debut at The Metropolitan Opera, singing the role of Nefertiti in Philip Glass' opera Akhnaten, and her house and role debut at Washington National Opera performing Dalila in Samson et Dalila. Bridges will sing the title role of Carmen for the first time in Europe at the Dutch National Opera and will make her debut with the Festival d'Aix-en-provence singing Margret in a new production of Wozzeck, conducted by Sir Simon Rattle. 
Bridges opens her season with her Tanglewood Festival debut, performing Beethoven's Ninth Symphony with the Boston Symphony Orchestra. She continues her concert repertoire by making her debut with San Antonio Symphony in Mahler's Symphony No. 2, and debuting with the New Jersey Symphony in Handel's Messiah, and closes her season by making her debut at the BBC Proms at the Royal Albert Hall in Beethoven's Ninth Symphony with Chineke! Orchestra and Friends.
In 2015, J'Nai completed a three-year residency with the Patrick G. and Shirley W. Ryan Opera Center at Lyric Opera of Chicago and that same year represented the United States at the BBC Cardiff Singer of the World Competition. Among her many honors, she is a recipient of a 2016 Richard Tucker Career Grant and first prize winner of the 2016 Francisco Viñas International Competition and the 2015 Gerda Lissner Competition. A native of Lakewood, Washington, Ms. Bridges earned her Master of Music degree from Curtis Institute of Music and her Bachelor of Music degree in vocal performance from the Manhattan School of Music. For more information, visit www.jnaibridgesmezzo.com.
. . . . . . . . . . . . . . . . . . . . . . . . . . . . . . . . . . . . . . . . . . . . . . . .
Charles Anthony Bryant – Wednesday, November 18th at 7:00pm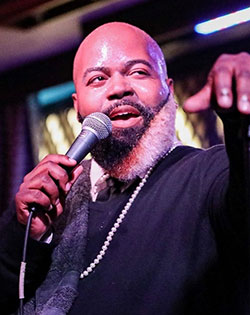 C. Anthony Bryant is emerging as one of the most versatile, powerful, and technically sound voices of our day. A resident of New York City, Bryant began singing with his family and in church at the age of two in his hometown of Washington, DC. This small beginning has given way to an increasingly stellar career in music that continues to grow not just vocally, but in the areas of composition, conducting, pedagogy, and music program management.
An active and highly sought after vocalist and performer, Bryant serves at his local church, First Corinthian Baptist Church, in Harlem, NY (FCBC) as Music Visionary (Minister of Music). Bryant began his time at FCBC after serving for 7 years at The Abyssinian Baptist Church in The City of New York as Worship Leader and Minister of Music for Youth. Though a self-avowed "church boy", church is not the only place C. Anthony can be heard. After recently completing a residency at Minton's for their Soul Stirring Sunday Nights Series; Bryant was invited to return to Dizzy's Club Coca-Cola at Jazz at Lincoln Center where he was featured in the role of "Big Chief" for Mardi Gras Celebrations with Alphonso Horne and The Gotham Kings.
With film credits that include, The Fighting Temptations (2003), Red Hook Summer (2012), and BET's feature documentary Holler If You Hear Me: Black and Gay in the Church (2015), Bryant admittedly feels most at home on stage or in studio. This is evident when one hears of Bryant's extensive work as a background vocalist and arranger, or of his solo performances. This, though (as Bryant will tell you) he won't turn down the big screen if it is offered. 
C. Anthony is currently working on his second solo recording project.  January 2015 saw the release of his first solo album entitled Hymnody vol. 1. 
A graduate of Atlanta's historic and prestigious Morehouse College (Bachelor of Arts, 2005), and the Manhattan School of Music (Master of Music, 2007), Bryant teaches private voice and serves as an adjunct voice instructor at The New School.  
. . . . . . . . . . . . . . . . . . . . . . . . . . . . . . . . . . . . . . . . . . . . . . . .
Ithica Tell – Wednesday, December 2nd at 7:00pm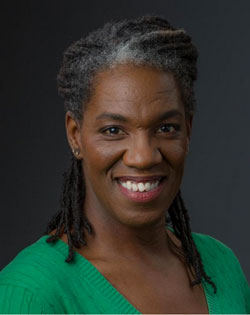 Ithica is a PAMTA winner whose vast Portland resume includes: Yitzhak in Hedwig and the Angry Inch and Voice Six/Mrs. Alexander in The Curious Incident of the Dog in the Night-Time (Portland Center Stage), Judas in Jesus Christ Superstar (StreetScenes), Wanda in Crowns (Portland Playhouse), Othello in Othello(Post5 Theatre), Frances in Melancholy Play (Third Rail Repertory Theatre), Mitch Mahoney in The 25th Annual Putnam County Spelling Bee (Anonymous Theatre), and Ursula in Bon Temps Rouler at the Shakespeare Cafe (Bremer Shakespeare Company, Germany). Ithica has appeared on Grimm (NBC), The Librarians (TNT), The Benefits of Gusbandry (web series), and Life After First Failure (CW Seed).